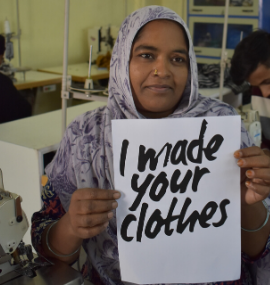 Farzana
The skillful tailor, breadwinner & cheerful mentor
Meet Farzana, a garment tailor at Kriti-Kala. She has been associated with us for more than five years. She is one of the most cheerful ladies in the unit and is also an able mentor as she willingly gives her time to guide the newcomers.
Farzana's journey hasn't been easy. She got married at a very early age due to which she couldn't pursue her education after 8th class. She was determined to give her children better opportunities. Her husband is an auto rickshaw driver and his income wasn't enough to support education for their three children. So Farzana took a bold decision and joined the tailoring training program at Kriti. She started with making simple bags and pouches and five years later, she is one our most skilled tailors, making beautiful garments in silk fabric. She is the first woman in her family who is doing a job and her children are getting the best education amongst all her family members. She is rightly proud of her achievements!
We believe that a small change in our buying decisions can support millions of people like Farzana to create their own inspiring life and story that will be worth sharing.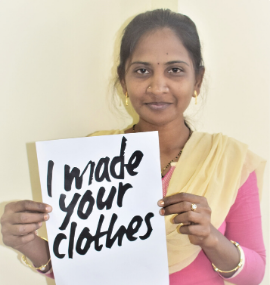 Anasuja
Leaving a life of abuse & charting her own course
Anasuja is supervisor at one of Kriti's bag production units. She is responsible for cutting the bags, distribution of work amongst the tailors, training them on new techniques and maintaining quality and quantity of output. Anasuja joined Kriti in 2010 as a trainee in the tailoring training center. She was married with two young children. Her husband was not reliable and not providing for her family. She started working in our production unit making bags and patchwork bedspreads. She worked hard and was one of the fastest tailors in the unit. As Kriti expanded its work and decided to set up a new production unit dedicated to production of bags, she was offered the role of supervisor. With her years of experience and capability, she was well able to take on the challenge and is currently handling a team of 10 tailors.
She separated from her husband on account of continued domestic violence and is proud to be supporting herself and her two sons with her own salary.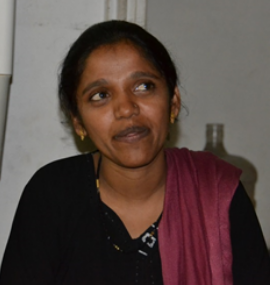 Shabana
The indomitable journey from tailor to trainer
Kriti's livelihood program supports about 50 women, one of them being Shabana Begum.
Like many other women at Kriti, Shabana did not receive a proper education - poverty and her gender prevented her from that basic right. She dropped out of school after 3rd grade and got married at a very young age of 18. After dropping out of school, Shabana engaged herself in odd jobs hoping to continue her education.
Her husband works as a cycle mechanic in a small kiosk that is owned by his cousin. He earns around Rs 5,000 to 6,000 per month. They live in a kaccha hut halfway up the slope of a hill in Film Nagar slums. She comes across as shy and quiet but this 27-year-old dreams big. She wants her two children, a 6-year-old boy and an 8-year-old girl to get higher education and become good citizens. However, with just the limited income that her husband has, this would be an impossible dream.
Shabana learnt tailoring at a Kriti training center in 2010. Since then, she works at the center for 6-8 hours per day to help supplement her family's income. "Before I joined the Kriti center I used to earn around Rs 30 per day by stitching petticoats. The agent paid me only Rs 18 for a dozen petticoats. Today I earn over Rs 250 per day at the Kriti center and work fewer hours. I can even take my children to work whenever they have holidays or are home early."
In 2019 Shabana developed severe cervical pain and was unable to continue stitching. She took a break for a few months and got treatment. She rejoined Kriti in 2020 as a trainer for the Sewing Machine Operator course that teaches women how to operate an industrial sewing machine. Her hard-earned skills will be used in other ways.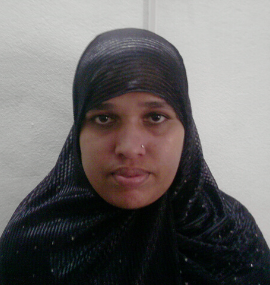 Sabiha
The intrepid lioness
Sabiha has been a part of Kriti since 2010 when she joined as a community health worker. Currently pursuing final year of B. A. in Political Science and Urdu Literature, she plays the role of an operations supervisor at Kriti. Moving around like a lioness, she makes sure that the work gets done. Along with Anees, the cutting master, Sabiha does quality checks too. Additionally, she also maintains records of raw material bought and used.
27-year-old Sabiha is a brilliant example of someone who has taken charge of her life in dire circumstances. She got married at a young age in 2005 to man who worked in Qatar. While Sabiha lived here with her in-laws, her husband did not visit her more than a couple of times in four years. Being harassed by her in laws unreasonable demands and attempts at violence, Sabiha left and got a divorce in 2009. "He also had two more wives, my parents fixed my match with him in just a fortnight as my father was suffering from a terminal illness," adds Sabiha dejectedly.
But since then, Sabiha's life has changed. Her work as a community worker gave her the confidence to talk to people. She enrolled in a college for a degree course and became a member at Kriti. She now aspires to pursue a B.Ed. after the completion of her bachelor's degree. She also plans to pursue a masters in social work. Not only is she a senior coordinator at Kriti and responsible for supervising the garment production unit, she is also a very active Asha worker and deeply involved in community health initiatives in her neighbourhood.
Sabiha loves to watch movies, loves to binge on sweets and is looking forward to being a good teacher, a dream she has been nurturing for a long time now.