THE KRITI TEAM AT A WOMENS DAY OUTING IN MARCH 2021
Himani Gupta
Founder, Kriti Sustainable Livelihoods
Himani Gupta is the co-founder of Kriti . She has a B Tech degree from BITS Pilani and has done her MBA from the prestigious Said Business School, Oxford.

The Kriti Kala brand has emerged out of the not for profit organization, Kriti Social Initiatives, started by Himani in 2009. She is driven by her passion to help women become economically independent and her keen interest in the crafts and textiles of our country.

Himani is the force behind planning styles and collections; driving sales strategies and channels; strategizing for growth and keeping the team motivated. Recruitment, approving designs, managing people issues – all aspects of the business are ultimately her responsibility and she manages it all with great passion and elan.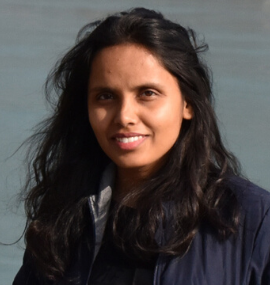 Sristy Kumari
Fashion Designer
Sristy graduated from NIFT in 2014 with a bachelor's degree in fashion design. Her passion for working with sustainable clothing brands drove her to join Kriti in May 2016.
At Kriti, her role is to design new products and select fabrics, trims, embroidery, colours, style for each product and supervise the making up of sample garments. Sristy ensures that the designs appeal to customers, are unique and comfortable.
Apart from designing products, Sristy is also involved in designing relevant, original, high-quality content for social media and works on a monthly calendar to regularly publish content.
M Adarsh
Digital Marketing Executive
Adarsh has completed his degree from D.H.T.T in indian Institute of Handloom and textile technology, Salem, Tamil naidu. He worked for four years in the Handloom and Textile Department of Andhra Pradesh government before joining Kriti in Dec 2020. At Kriti, he works as a Digital Marketing executive.