About Kritikala - Kriti Sustainable Livelihoods
Kritikala offers sustainable apparel and lifestyle products created by women from low-income communities in Hyderabad. Our goal is to make products that are functional yet aesthetically pleasing, unique yet affordable and in a way that supports the growth and livelihoods for a large number of women artisans.

Women learn technical skills such as tailoring and hand embroidery at our training centers. They also go through a process of continuous training and discussions on a wide range of topics such as gender roles, their health, mental well being and their legal rights. We believe empowerment is a journey for women that enables them to make more of their own strategic life decisions. Becoming economically active and earning money is one step in the process.
The products use the local textiles of the region – Ikat, Mangalagiri cotton and Kalamkari cotton. Sometimes we bring in textiles like Linen or Chanderi to make more festive apparel. We extend our reach and support to the wide community of rural artisans who weave the gorgeous fabrics that make Indian textile sector so vibrant and unique. We have recently started a project with the artisans from old city of Hyderabad who make lac bangles and ittar.

Each product is hand-made and provides a fair source of livelihood to the artisan who worked on the textiles as well as the woman involved in stitching or embroidering the product. The Kritikala brand has emerged out of the work that our parent organization, Kriti Social Initiatives https://www.kriti.org.in has done on working on issues of urban poverty for a number of years.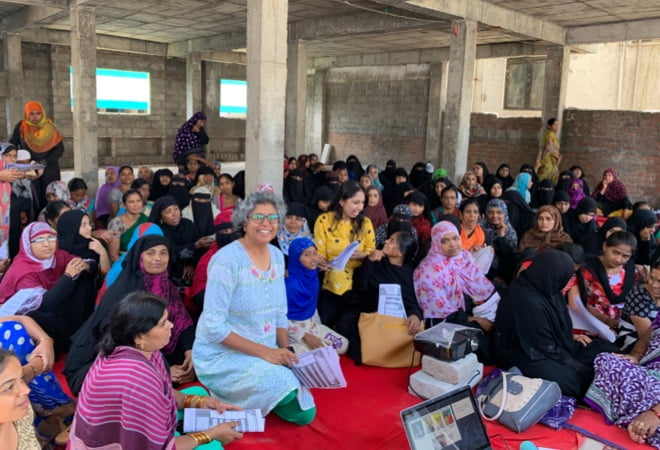 Our team
Himani Gupta

Himani Gupta is the Director of Kritikala. The Kritikala brand has emerged out of the not for profit organization, Kriti Social Initiatives, started by Himani in 2009. Initially Kriti was doing tailoring and hand embroidery training for women as a means to teach them skills and become economically active. But after the training, the women asked for market linkages to be able to sell their products. That's how the Kritikala brand started and they started with making simple products like jute bags and patchwork bedspreads.

Himani is the force behind planning styles and collections; driving sales strategies and channels; strategizing for growth and keeping the team motivated. Recruitment, approving designs, managing people issues – all aspects of the business are ultimately her responsibility and she manages it all with great passion and elan. She is driven by her passion to help women become economically independent and her keen interest in the crafts and textiles of our country.

Himani holds a B Tech degree from BITS Pilani and has done her MBA from the prestigious Said Business School, Oxford.

Shristy Kumari

Sristy graduated from NIFT in 2014 with a bachelor's degree in fashion design. Her passion for working with sustainable clothing brands inspired her to join Kriti in May 2016.

Sristy is the production and design head at Kritikala. She designs new products and selects fabrics, trims, embroidery, colours, style for each product and supervises the making up of sample garments. Sristy ensures that the designs appeal to customers, are unique and comfortable.

Sristy ensures that the production runs smoothly and also coordinates with the different vendors for whom our unit undertakes bulk production.

Adarsh Maddana

Adarsh has completed his degree from D.H.T.T in Indian Institute of Handloom and textile technology, Salem, Tamil Nadu. He worked for four years in the Handloom and Textile Department of Andhra Pradesh government before joining Kriti in Dec 2020. At Kriti, he works as a Digital Marketing executive.

He is responsible for managing ecommerce orders and all the backend activities that keeps our website updated and relevant. Adarsh has taken a keen interest in learning more about the e-commerce space and recently completed a course on digital marketing and SEO.



Sayantani Das

Sayantani is a graduate from NIFT, Kolkata who joined Kritikala straight out of college. This visual communication designer is an award winning artist who is thoroughly enjoying her stay in Hyderabad. She is responsible for our product photoshoots and also social media content. She is great at taking short videos and capturing small details of our work to share with our supporters.